Die moderne Katze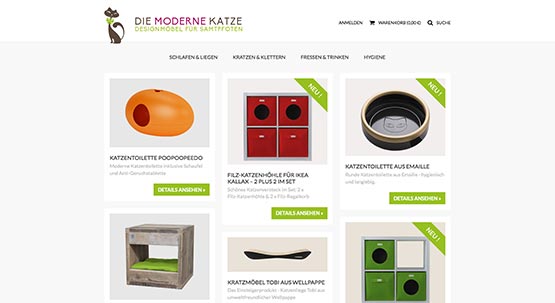 The Online-Shop for modern design finds for living with cats
Under the slogan "Designmöbel für Samtpfoten" (Design furniture for velvet paws), the online shop shows that design-conscious cat people have the possibility to live more beautiful with their felines. Cat owners are getting design solutions for cat beds, scratching posts, cat trees and more. They will find the products, which create living spaces fitting bother the natural instincts of the cat and the human sense of style and comfort.
The online- store appearance is clear and minimalistic. The intuitive user interface makes it very easy to find the right product. The shopping experience is available on all devices from mobile phones to the desktop through the use of modern technologies such as HTML5, CSS3, and responsive Web design.
coffee with cats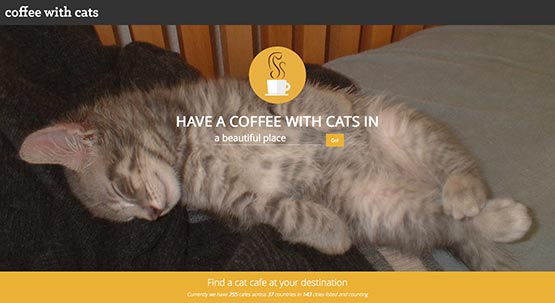 The largest directory of cat cafes on all continents.
The cat cafes are venues which features cats in residence . They are opening the guests a chance to hang out with feline friends in a public environment whilst enjoying warm and cold drinks, snacks or even free Wi-Fi , board-games and magazines. The concept of cat cafes evolves originally from Taiwan. It is now spreading over to the United States to Asia, Europe, Russia and is a world wide trend.
For city travelers backpackers, business travellers and cat fans the Portal provides the best way to find cats cafés worldwide. The easy search functionality delivers results and details about location, opening hours, fees and more: Thus the portal is the central focal point for all cat lovers. The directory can be used on all devices from mobile phones to the desktop